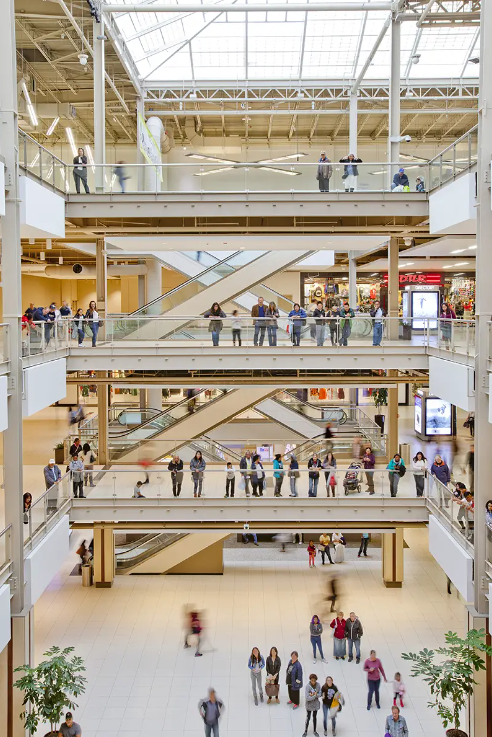 Syracuse, New York—Pyramid Management Group, the largest privately-held shopping center developer in the northeast, reports a significant sales surge across its portfolio of shopping, dining, and entertainment destinations, with sales up by nearly 20% year over year in January 2023.
This growth underscores Pyramid's commitment to creating vibrant, dynamic destinations for its guests and strategy of continually reinvesting, reinventing, and reimagining its shopping centers to thrive in today's marketplace for decades to come.
"We are thrilled with the strong start to the year and the exceptional performance of our portfolio," said Stephen J. Congel, CEO, Pyramid Management Group. "This is testament to our strength of leasing and commitment to adapt and evolve while continually reinvesting in our properties for long-term growth and success."
The Pyramid portfolio includes some of the most successful shopping centers in the country, including Palisades Center (West Nyack, NY) Crossgates (Albany, NY) and Destiny USA (Syracuse, NY) with a focus on offering a wide range of shopping, dining, and entertainment options, alongside onsite hospitality and residential. Pyramid's dedication to innovation and the evolution of its properties has helped create experiential "live, work, play" destinations that keep customers coming back and ensures that Pyramid continues to be the dominant property in the markets it operates.
"Our success is driven by our ability to quickly adapt to changing consumer preferences," Congel noted. "We are constantly staying ahead of the curve by adding new and exciting retailers, incorporating innovative amenities, and offering mixed-uses that provide unique experiences for our guests that go well beyond the traditional shopping experience."
Looking ahead, Pyramid is confident in the continued growth of its portfolio throughout the year. The company is already working on several exciting projects, including the addition of new retailers like Primark and continuing to make significant progress on its long-term plan to bring diversified offerings, such as residential and hospitality, to its enclosed shopping centers.
###
Pyramid Management Group is one of the largest, most innovative, privately-held real estate developers in the northeast. Headquartered in Syracuse, New York, Pyramid's portfolio of dynamic shopping, dining and entertainment destinations and expanding hospitality and residential presence dominate the northeast with 14 properties located throughout New York and Massachusetts. For over 50 years, Pyramid has built its reputation on being first, fast, ahead of the curve and always what's next, leading the industry in combining the best elements of traditional retail with world-class dining and entertainment, all under one roof.  For more information, visit www.pyramidmg.com.